text.skipToContent
text.skipToNavigation
BECAUSE THE PERFECT BLONDE DOESN'T AGE
Ideal for mature clients looking for sophisticated blonde looks, BLONDME Bond Enforcing Lift & Blend provides ultimate white hair coverage, lifting hair and blonde toning in one. When intermixed with BLONDME Premium Developer, achieve up to 4 levels of lift and optimal white blending results on a natural base 6 and lighter, with 30%-70% white hair. 
Maintain an impeccable mature blonde look.
BLONDME Lift & Blend is especially suitable for mature blonde clients who are looking for a sophisticated blonde look. By lifting up to 4 levels and perfectly blending in white hair, Lift & Blend is especially recommended to maintain a natural-looking blonde without creating a helmet effect.
Our commitment to a sustainable future.
With sustainability at heart, at Schwarzkopf Professional we are committed to taking further steps when it comes to reducing our global footprint. 
BLONDME Lift & Blend packaging uses the following materials:
• Tube - 100% recycled aluminium
• Cap - 100% recycled plastic
• Folding Box - min 93% recycled cardboard
6 INTERMIXABLE SHADES FOR NATURAL-LOOKING RESULTS
SHADE ASSORTMENT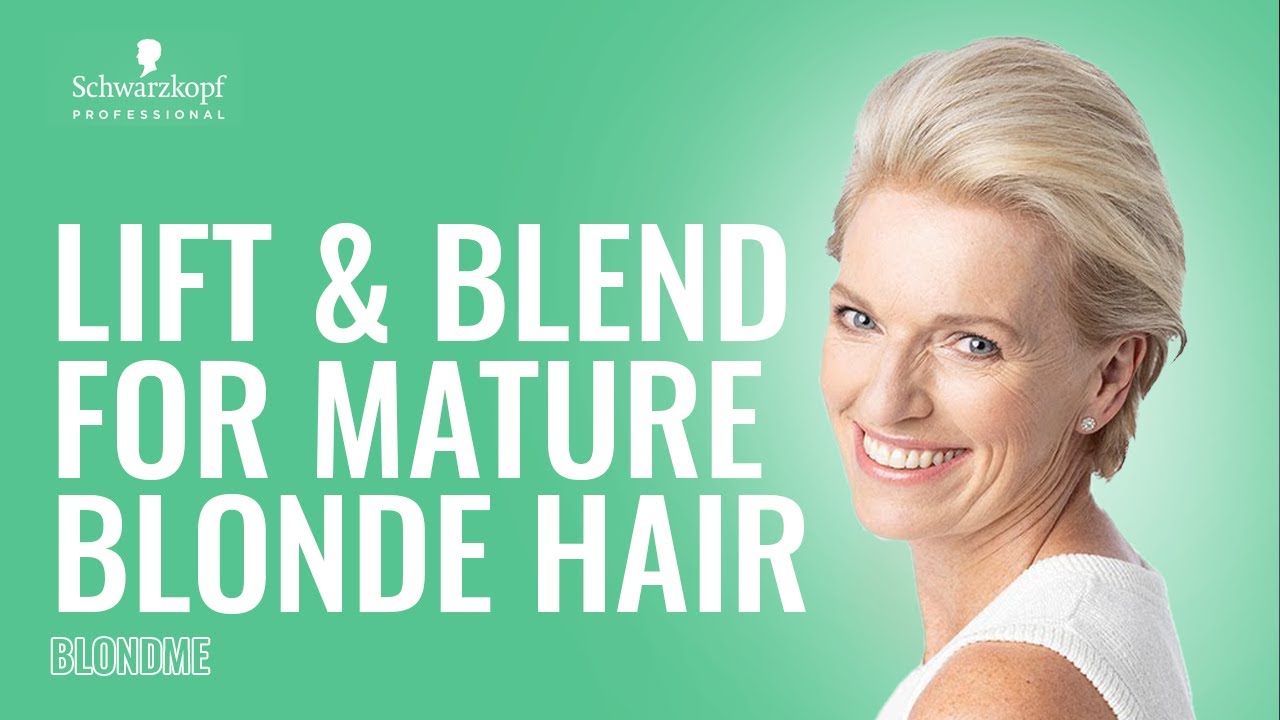 HOW TO APPLY LIFT & BLEND
Always intermix the BLONDME Bond Enforcing Lift & Blend hair lightening cream 1:1 with BLONDME Premium Developer
For levels 6 and 7, BLONDME Premium Developer 12%/40 Vol. For levels 8 and lighter, BLONDME Premium Developer 9%/30 Vol
Apply onto dry hair, do not shampoo beforehand. Apply the mixture in fine sections immediately after preparation
Use a generous quantity of the product in order to ensure the best possible lifting result
Lift & Blend offers an optimal colour blending opportunity with either a full head virgin application or a re-growth application.

Optimal lift and white blending due to the unique combination of lifting and colouring. BLONDME Lift & Blend provides up to 4 levels of lift while creating a perfectly balanced colour blend in 6 different shades. Create most beautiful, natural blonde results without a helmet effect!

BLONDME Lift & Blend can blend up to 100% white hair when used on natural bases with a white hair percentage between 30% and 70%.​

In general, it is possible. However, please note that by intermixing BLONDME Blonde Toning, the lift performance might slightly decrease.